Sport Products

Liquidity's Exact Cool Therapy (ETC50)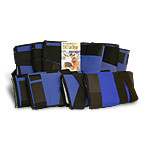 Exact Cool Therapy™ (ECT50™) offers "optimum" healing benefits with none of the health risks associated with ice and gel packs.
Exact Cool Therapy™ medically advanced cooling mechanism is known as TCC™ (temperature controlled cryogenics).
Medical studies have proven that temperatures below 50°F damage tissue vital for healing as it reduces inflammation. Most ice packs cool well below the optimum level and temperature varies with time.
TCC™ brings to the world a unique temperature controlled fluid that freezes to the optimum temperature of 50°F.
Exact Cool Therapy™ (with TCC™) provides safe and effective temperature of 50°F (10°C). This cold therapy slows metabolic activity of the injured tissue, further reducing the chance of secondary hypoxic injury to the affected area. Unlike frozen ice or gel packs, ECT50™ packs may be placed directly against the skin without fear of frostbite, irritation or soft tissue damage.
Small Exact Cool Therapy Pack

Item Code: 171000

Price: $75.00

Large Exact Cool Therapy Pack

Item Code: 171001

Price: $100.00

Only $75.00

Only $100.00

*The Food and Drug Administration have not evaluated these statements. This product is not intended to diagnose, treat, cure or prevent any disease.